Just a sample of the praise we have received from some of our customers.
Dorothy
Great! Excellent workmanship, Work completed on timetable agreed to. Workman were punctual arriving on the appointment day and time. Good communication to arrive at best choice of the options considered. etc.. We have hired this company another time in the past decade and based on that experience we hired them again this time.
William
The owner/operators were wonderful! We designed the door and they manufactured it. The crew came 25 mi four times throughout the project. It fits the opening like a glove, its totally sealed, looks great and I would definitely work with them again.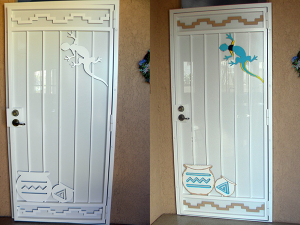 We enjoyed the complete experience from calling for estimate and having Jeff come the very next day, to having it installed EXACTLY 6 weeks to day that he told us it would be! Quality door. Quality crew, including the office manager, Doris. The door is perfect fit and sealed all around. NO bugs coming in there. My husband loved painting it to match home decor. We would totally recommend this Company and crew.
Cindy & Eileen
We LOVE our security door. From the moment we stopped into the store until the doors were installed you were very attentive and approachable. The door itself just feels good when you open and close it. Our visitors even comment on the door! Thanks for your professionalism! We will think of no one else when we think about doing out next wrought iron project.
Chris & Don
We love the doors. Thank you for doing such a wonderful job for us!
We would recommend The Larger Company. They are creative, competent, professional and courteous. We were impressed with the service, communication and installation. They are a top-notch company that takes great pride in their trade and we could not be more pleased with the quality and installation of our doors.
Leeanne
My husband and I recently had a custom-made gate for our home made by The Larger Company. The design I made was adhered to, and the gate look super. The service I received on the phone by Doris was prompt and professional, installation was quick. When there was a small issue with how it was closing, I called them back to have it looked at, their response was quick and cheerful. The next day, Albert came and made the needed adjustment to the gate, his attitude was a pleasure also. I appreciate the 'can do' attitude of their team and will be using them again as we progress on the work on our home.
Dianne & Pat
We really enjoyed working with the staff at The Larger Company. They all were friendly, ease to work with and professional. They had a nice selection of doors to view and a variety of price ranges. We have had our door for several months now and just love them! Very well built and installed. I am sure they will service us well for years to come.
Frances
Jeff emailed his drawing of the project. I went into the office, to change and tried to explain what I sort-of wanted. He said he would work on it. He later emailed me the completed drawing and it was perfect.
All appointments set up were confirmed by Doris, the office manager. His crew, came out to measure, etc. Everyone was most professional. The job was completed and installed on schedule. I am so very pleased and would recommend Jeff, and his company, without reservation.
Gail
When I moved into a house with no screen doors and no gate into the back yard, I began to ask my friends about companies that provide wrought iron screens. The most enthusiastic reference was for The Larger Company. I called the company on 4/4/2017 and received a visit and a full estimate on 4/11/17. I was provided with a catalog of standard designs for screens or I could have requested custom work. I was impressed by the variety and appearance of the screens in the catalog. The screens are very strong, heavy-duty, and made of high-quality materials. All three screens plus a back gate were delivered on the date estimated which was 6/22/2017. I was charged exactly what was on the original price list – no "add on' or hidden cost. The screens and gate fit perfectly, and paint was flawless. The appearance and safety of my home are improved. Everyone at The Larger Company was a pleasure to work with. I have already recommended them to one friend, and I will continue to do so.
Ann
I recently purchased two security doors from the Larger Company. The doors are beautiful – exactly what I wanted. Jeff and his people were easy to work with and always courteous. I recommend the Larger Company without hesitation.
Carla S.
"They did everything right. Very Happy!
Very professional. The showed up when they said they would. Installed when they said they would. Highly recommend their services. We shopped Lowes and Home Depot. The quality of these doors are better, approx. the same price and better service."
Frank & Jeri
Dear Jeff;
Thank you so much for doing a wonderful job for us. We greatly appreciated the professionalism of you an your assistant, the outstanding quality of the work with attention to detail and the clean-up upon work completion. We would certainly use your company again and would highly recommend your company to our friends and neighbors.
Thank you again,Frank and Jeri
Tom B.
The Larger Company is a first class operation. Promised dates are kept. Workmanship is excellent. We had purchased old materials from a local scrap yard. They picked it up, cleaned it up, painted and installed it. They also fabricated trellises for us, so I can speak to their level of detail which was wonderful.
Debra C.
Had been having problems with havelina digging up my plants and turning over my potted plants potted plants along the walkway leading to my front door. Jeff designed and installed a gate with side panels to go across my walkway. He was very professional, did excellent work, and offered great suggestions. In the future I plan to have a matching wrought iron front door installed. I highly recommend the Larger Co.
Millie
The Larger Company installed a security door for our home. They have many designs from which you can choose or they work with you and help you create the outcome you would like. We are very pleased with the workmanship and quality of our door. The Larger Company was very timely with their appointments, scheduling, and their estimate, and installation of the door itself was right on target. We recommend them highly.
Joe K.
We received this awesome testimonial letter from Joe in September.
"May this letter serve as a personal testimonial for the work you have done for us. I obtained the information about The Larger Company through Angie's list. I called and set up an appointment for Jeff to come to our home to discuss the wrought iron project. He arrived on time and was very thorough taking notes, measuring, and making some drawings. He was very clear and helpful in his suggestions of how the railings would be done… it was somewhat of a challenging project because one of the railings required a curve as it descended into the pool area. Jeff was very knowledgeable and professional throughout our time with him. In all of the subsequent activities, everything was completed on time and according to our discussions. Also, Doris was very helpful with paperwork and the logistics of payment. The total cost of the project was a fair price. I should mention we had received two other bids. My wife and I are very pleased with The Larger Company and highly recommend it to anyone requiring wrought iron work." Joe K.
Donald
"Dear Larger Company; Having been guided by the BBB/Consumer reports and Angie's List recommendations we contacted The Larger Company first when in the market for security screen doors. It was a good decision. We must say that we were thoroughly impressed with your operations and personnel. We don't believe we have ever viewed a more efficient, smooth running, and cost efficient product and installation such as yours. I was particularly impressed with how you explain the products and availability. Your employees were extremely courteous and went out of their way to explain various functions and answer our inquiries. We would be most appreciative if you would extend a special thank you from us to Jeff. Thank you. We've shared our experience with our HOA, and all our Tucson friends and neighbors!"
Patty
Jeff,
Thank you so very much for your honest work and timing on my new wrought iron door with the design that I ordered it to be. The color matched well with the front door and house. Your service was efficient, and workmanship was amazing!
I recommend everyone to order up a door from you to get perfect results without any complications. Patty
S.C.
I want to thank you and your company for the excellent customer service and outstanding workmanship. You were so pleasant, informative, and helpful while I processed the decision. Jeff and his assistant performed an excellent job in the installation. The quality and workmanship of the door exceeded my expectations, which is a rarity! I will definitely recommend your company and, in fact, the day after the installation, a designer from Pottery Barn visited my home and she commented on the beautiful door and asked for your card!
Gene & Leila
"It is fantastic! I could not think of anything to complain about if I tried. We got the name of The Larger Company and several other companies from Angie's List and met with three of them. We were extremely impressed with Jeff, the owner; Albert, the welder; and Doris, the Office Manager. At each of the other businesses, we spoke with a salesperson. At The Larger Company, we spoke with Jeff, the owner, who is also the designer.
If you don't find exactly what you want in their catalogs, they will create it for you. Jeff stood on our patio and took a picture of the view we have of the mountains. He projected and enlarged it. Then he and Albert bent the iron to match the projection. Doris found a palm tree we liked on the internet and copied it; Jeff changed it a little to make it just what we wanted. Jeff and Albert cut out our design, and Albert welded it on. Before the final welding, they had us look at it to make sure we liked it. If there had been anything we didn't like about it, they would have changed it to please us. That was unnecessary, though, it was perfect!
When Jeff and Albert were installing our door, two of our neighbors saw it and came to look at it. They were as impressed as we were that Jeff, the owner, was up on the ladder beside Albert installing the door. One of our neighbors suggested we give the saleslady for our subdivision a business card for The Larger Company. We, of course, did and told her how pleased we are with our door. She looked at it and thought it was beautiful.
I can't think of another company with whom I have been so impressed. If we should ever need more ironwork, we will, obviously, call them."
Mike
Hello, I just wanted to thank you for the fantastic service and quality door that you made for our house. I tried the big box stores and they sent out a guy who was not qualified to measure for a screen door. They came back (2 weeks later) with a quote for an additional $2,200.00 to build and install the door. I looked around for a local company and was very happy to find The Larger Company.
In 3 weeks they had my door built and installed and we love it. Jeff was professional and his all inclusive prices are great. Several other places in town gave me a 3 to 4 month build time. Jeff's price beat the big box store by $1,500.00, so if you are looking for a reasonable deal and great quality work, this is the place. I highly recommend The Larger Company for security screen doors that can be customized any way you want. Thanks again! Mike
Jim & Mary
We had The Larger Company make and install a French security screen door, a security screen door going out to our pool, and add a screen and pain our courtyard gate. We were very impressed at Doris and Jeff's professionalism and they were very helpful and cordial. Nowadays it seems as though service people tend not to be punctual and friendly. That definitely was not the case with any of the employees at The Larger Company. They responded quickly in giving an estimate, setting up a schedule, and installing the doors. When they said they were going to be there on a certain date/time, they were. After checking other screen door vendors, we were extremely happy with selecting The Larger Company and will recommend them to everyone. We got the best price, service, and product.