Security Screen Doors | Trellises | Enclosures | Window Guards | Railings | Pool and View Fences | Gates | Decorative and Other Miscellaneous Items
Looking for a unique piece but on a budget? Everything we design is made right here in our shop. These are a few items that for different reasons were made and not sold. If you are interested in any of these items please feel free to give us a call. There is only one of each of these items and they will be sold on a first come first serve basis.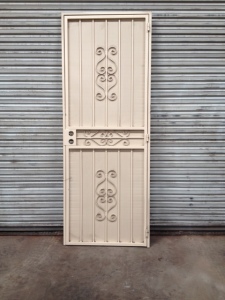 outside frame measures 36 3/8 " x 96″
Extra tall, split scroll design, beige
Door is sold 'AS IS' for $300.00.